History of The Fine Line Painting Co…                                                 Click here to see my video
The Fine Line Painting Co., Inc. has been successfully painting homes in the Raleigh, Cary, and all surrounding Triangle NC areas since 1989,
with excellent results, a superb reputation, and endless referrals.
As a very well organized small business, I have always been committed to continuously improving the quality of my services,
with the priority of satisfying each individual homeowner.
From the start I have had painting crews, and painted homes inside and out, including Kitchen Cabinets. 
When the economy took a "downturn" in Jan. 2008, I had to lay off my crew, and I returned to doing all the work myself.
I began ONLY Painting Kitchen Cabinets, and it is NOW MY SPECIALTY! It is much more practical and affordable than any other options, such as refinishing, refacing or replacing. It only takes me about a week per Kitchen, and I have painted over 500 sets of Kitchen Cabinets since.
You can learn more about "how" I paint them on my "Cabinet Painting" page of the web site.
The Fine Line Painting Co. is dedicated with honesty and integrity in providing
"your best choice" for painting your Kitchen Cabinets!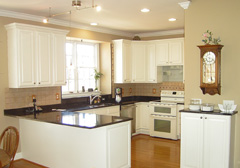 These are the procedures I employ during the project:
Very thorough while preparing and painting
Maintain a clean and safe job site throughout the length of the project
Friendly, honest, courteous, conscientious, trustworthy and reliable
Maintain constant contact prior to, and throughout the course of the job.
Use only top quality paints, products and equipment
Insured
Schedule the project according to your needs
Label and leave all the extra paint
Return (even after payment) for any unforeseen touch-ups
My work and your satisfaction are guaranteed
For more information or a free Kitchen Cabinet COST
over the phone, call today! (919)-790-0660
I look forward to speaking with you soon! Gerald F. Hubbell, Jr.
Click here to send me an email at thefineline@juno.com
A "Spotless" Professional Finish" Everytime…
Serving Raleigh, Cary, Wake Forest, Chapel Hill, Durham, and all surrounding NC Areas since 1989!